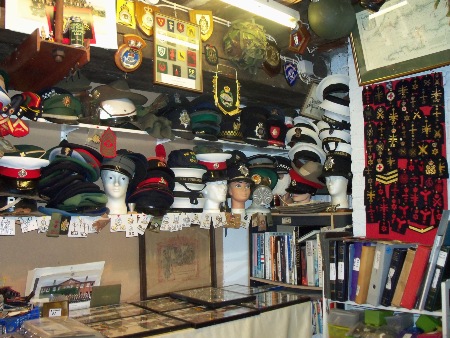 LAST UPDATED 24th June


YOU CAN ALSO FOLLOW US ON FACEBOOK PAGE RBJ MILITARIA.


Please contact via email any time rbjmilitaria@hotmail.com

My name is Brian Pullen but most people know me as "BJ". In 2003, after over 25 years military service I started this business as a sole trader in military and naval collectables and RBJ Militaria is the name I trade under.

Thank you for visiting my website and I hope you will find something of interest.


HOW TO ORDER

Please contact via email any time rbjmilitaria@hotmail.com
or Telephone 07714 544777 between 0900-1700 Monday to Saturday, to confirm availability and postal costs

POSTAGE IS CHARGED AT ROYAL MAIL RATES WHICH FOR MOST SMALL ITEMS WILL BE £1-£2
HOW EVER DUE TO ROYAL MAIL PRICE INCREASES I AM NOW OFFERING A COURIER SERVICE FOR HEAVY ITEMS AS PROVIDED BY "COLLECT PLUS" AS AN ALTERNATIVE SERVICE

THIS IS CHEAPER THEN THE ROYAL MAIL AND MEANS MOST PARCELS UP TO 10 KG WILL ONLY COST ABOUT £7 FOR UK MAINLAND DELIVERY



Payment by cheque made payable to B.J Pullen. Or by bank Transfer or PayPal with prior arrangement, please e mail for details.


PLYMOUTH WELL WORTH A FAMILY VISIT

http://www.visitplymouth.co.uk/

http://www.barbicanwaterfront.com/ My shop is located on the middle floor of 27 New St Centre
Plymouth Devon PL1 2NB
This is a large Antique and craft centre located on Plymouth's historic Barbican waterfront and well worth a visit for all the family.

http://www.27newstreet.co.uk/ OPEN 9 TILL 5 CLOSED SUNDAYS Please phone or email me with any enquiries Phone 07714 544777 between 0900-1700 or email any time.

WANTED
South Atlantic / Falkland Medals
Medals to Royal Naval Warrant Officers, Gunners, Carpenters, Boatswains etc.





At present, our web site is still under construction. We are making every effort to upload our vast stock
Please keep checking for updates.

In the meantime you can reach me on 07714 544777.

You can also contact me by e-mail: rbjmilitaria@hotmail.com